I've been a peak bagger for over 20 years now. When I stood on my first major summit, Lone Peak, back in the early nineties I had a series of emotions rush through my body. While standing on that lone summit rock filled with adrenaline I took in the 360 degrees of vistas and I knew right there and then that I wanted to climb 'em all. I spent the next several years making lists of peaks and slowly bagging them. Fast forward to early 2009. I was out of shape and fat. I was reading the intro to one of my favorite books, The Chuting Gallery by Andrew Mclean and I was inspired by this motley crew of back country skiers that got up in the middle of the night a few times per week to climb up their favorite chutes in the Wasatch for a good ski before work. If they could do it so could I and I decided I would get up early a day each week for the rest of the year to climb a peak in the Wasatch. My good friends Craig and MVH were with me on most of these climbs. My lack of fitness prompted me to start running to get into better shape and within a year I had discovered trail running and the rest is history. Since the start of 2010 I've stood on 467 summits. Each peak has been an adventure and I can say without question that I've enjoyed every one.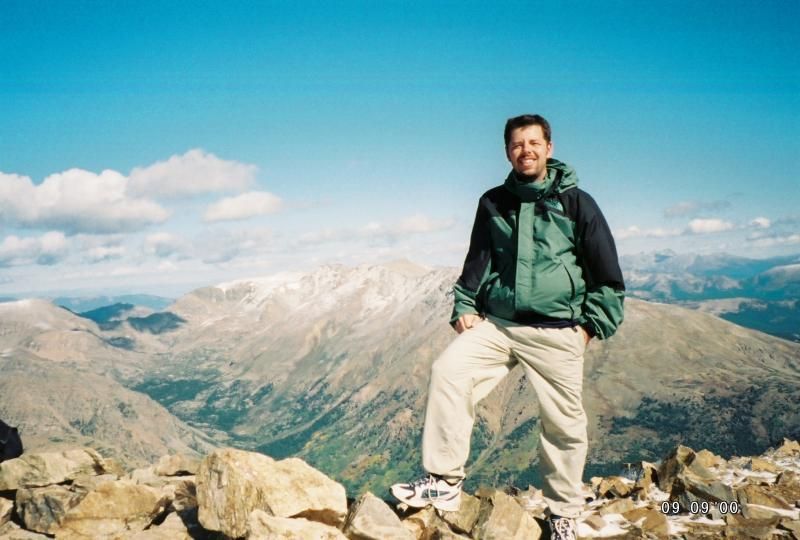 Fat me on the top of Colorado circa 2000
By the numbers: I climbed 27 unique peaks throughout the year with 119 total summit ascents. Mt. Wire had the most summit visits at 26. Here are some of the highlights:
– January group run from Tibblefork reservoir in American Fork to the summit of Hidden Peak. With an approach of 10 miles on a snow packed track we made our way to the backside of the Alpine ridge. It was very cold, but we never noticed except when we stopped for a quick break. It was fun to see the looks on the faces of the Snowbird employees that were in a shack high on the back side of the mountain when they saw us there. We took a direct route straight up to the peak, going off the groomed track and hit the top in the middle of the night. 11,000 feet in the cold dark night can be intimidating 10 miles from your car, but we took a few minutes to warm up in the shack before the run down. Incredible.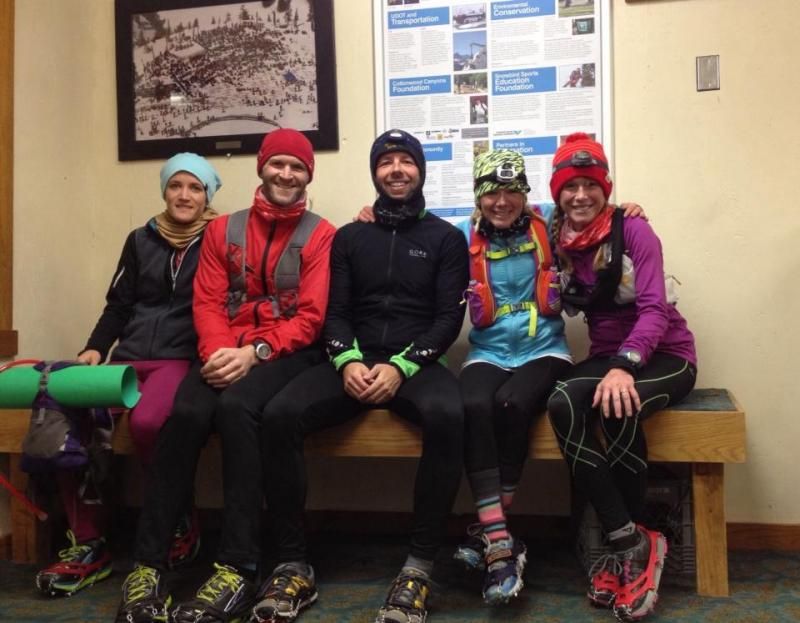 Hidden Peak with Leslie, Craig, Me, Jennilyn, Jen
-In April I climbed Dude Peak with Jennilyn and MattW from City Creek Canyon. We had great conversation and a lot of laughs on the way to Dude and then from there stayed on the ridge hitting two more peaks covering terrain where I had never been. Then we did a bush-whack descent back into City Creek that was far too long and arduous, but full of laughs and colorful language. We also found poop on a stick and a moose rack that Matt carried back to the car. 15 miles of awesome.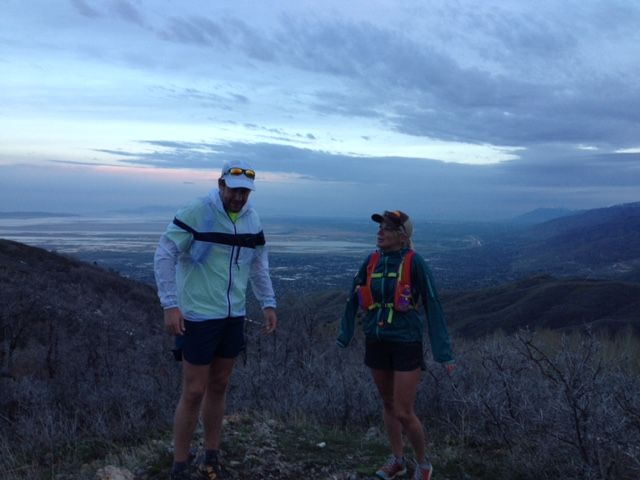 Dude!
-Mt. Mahogany/Big Baldy with Jennilyn and Craig on June 1st- One of the best runs of the year. I loved seeing Jennilyn's face when I told her we were going straight up the steep loose shale/scree slope on the south ridge of Mahogany. This run had it all: Mountain meadows filled with wild flowers. Craig and I taking engagement photos. Fast downhill ridge running. Singing in the meadows. Moose. Not another soul in sight. Multiple summits. Fun downhill trails and a shower in the cold falls. Heaven.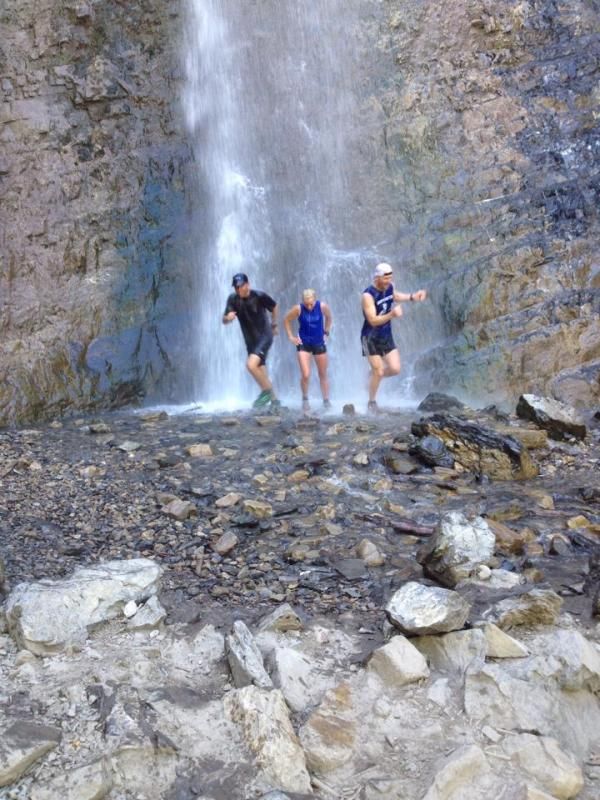 Sometimes its not about the summit at all
-In July I took my wife Kristina up Squaw Peak for the first time. We had a blast talking and laughing on our way up and the views from the top are always good. Summits are always sweet, but enjoying that view and solitude with my girl was one of the best memories of the year.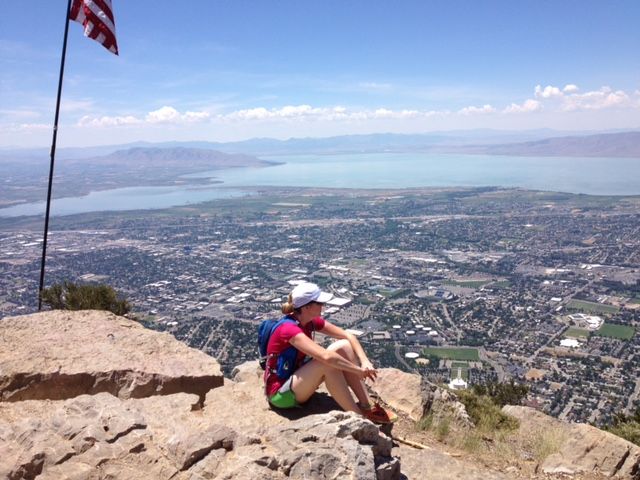 Kristina on Squaw
-On July 24th MattW and I celebrated Pioneer Day by climbing an old friend, Kessler Peak. It had been 15 years since my last visit. What was I thinking? Kessler has one of the best views in the Wasatch and Matt and I laughed while we explored some old mines and playfully bounded across the summit ridge smiling the whole time.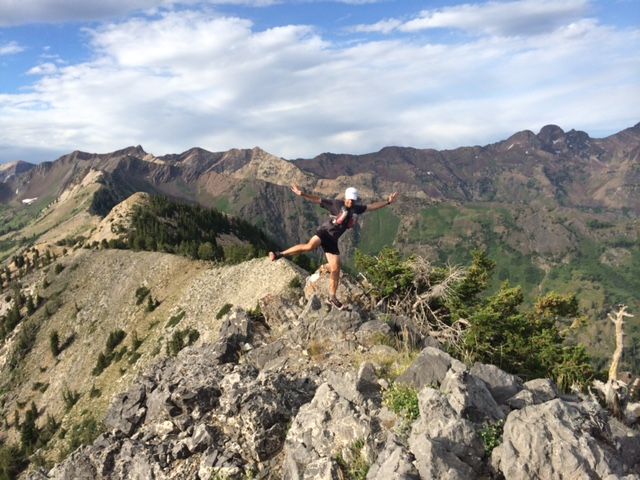 Kessler
-Hidden, AF Twins, Red Baldy with Craig & Jennilyn- Pre-dawn start from Snowbird. In typical fashion we made our way up the service road laughing and chatting away when someone yelled COUGAR! With Craig as our human shield we pushed ahead only to find a small deer just off the trail. All of the smoke in the valley made one of the best sunrises of the year from Hidden Peak. The next few hours we spent laughing and scrambling across the rocky ridges tagging the AF Twins, Red Stack and Red Baldy. Views. Smiles. Bliss. We ended with a dip in White Pine lake and then smiled all the way back to the White Pine trailhead. One of my all time favorite trail runs.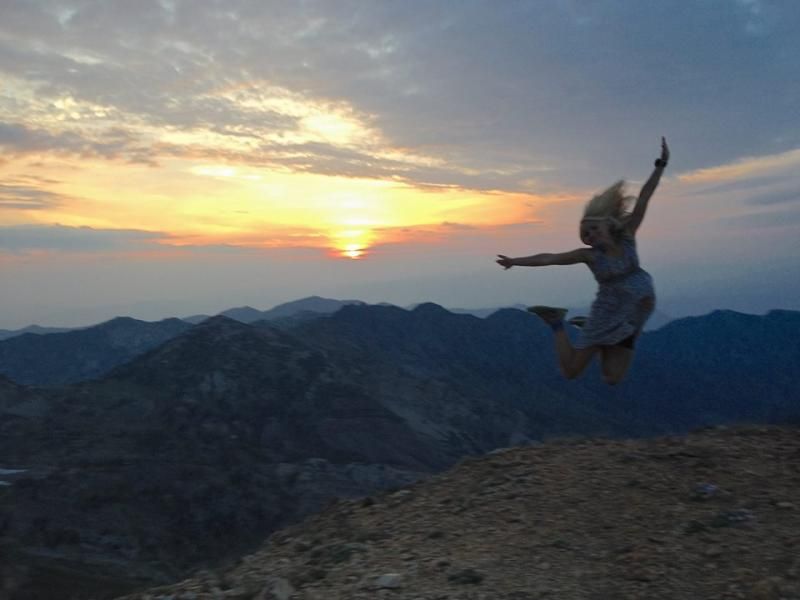 American Fork Twins
-Timpanogos: I tagged Timp 4 times in 2014. If you go at the right time to avoid the crowds this is the best run in the Wasatch. I was fortunate to see mountain goats 3/4 trips up and the most memorable summit was an early weekday morning with Craig, MattW and Brent. We laughed so hard from the saddle to the summit and then our jaws dropped on top as the clouds that had enveloped the summit parted just in time to expose the incredible views below. Wow.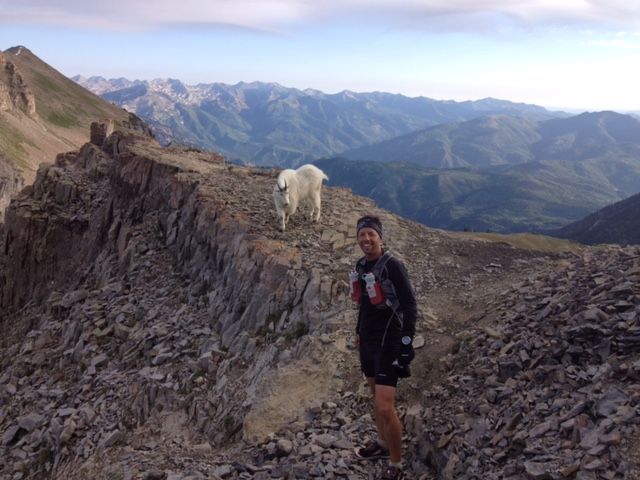 Just below the summit of Timpanogos
-Mt. Raymond: This summit provides some of the sweetest vistas you can taste in the Wasatch. An early morning run with Bob, Craig and Ashley was one of the best of the year. An early morning storm brought clouds and the threat of bad weather, but we lucked out and missed just about all of it. What we did have were lots and lots of laughs with new friends. Bonds were formed, friendships made. Another perfect morning in the Wasatch.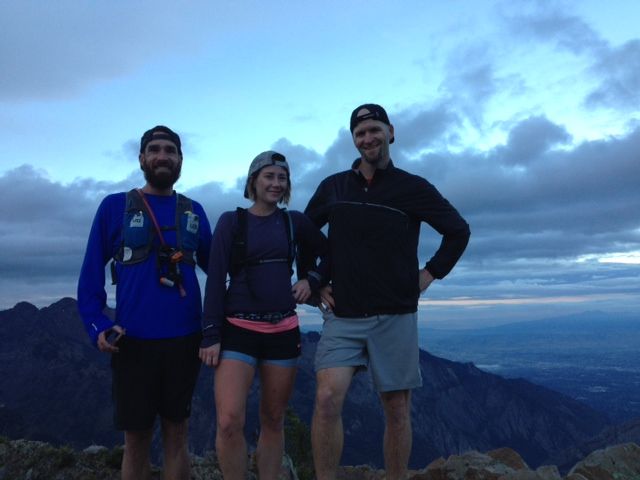 Mt. Raymond
-Ben Lomond/Willard: With MattW, Jennilyn, Bob and Ashley- This is the second year in a row that we have made an early morning visit to these two incredible peaks. This is one of the best runs in the Wasatch, probably in my top 5. We had a perfect day laughing and running on stunning single track trail with views in every direction. The run from BL to Willard might be the best ridge running I did all year. We spooked up a herd of mountain goats just below the summit of Willard and enjoyed one of the best peak bagging days of 2014.

Willard Peak
-Devil's Castle with MattW, Aaron and Cait: This is one of the best ridge scrambles in the Wasatch. With some early fall snow we had a few dicey sections on our way to the ridge, but from the saddle conditions could not have been better. We had a stupendous time tagging all 3 peaks from west to east and then enjoyed a little spice on the snowy descent back to the cars. It was another perfect day.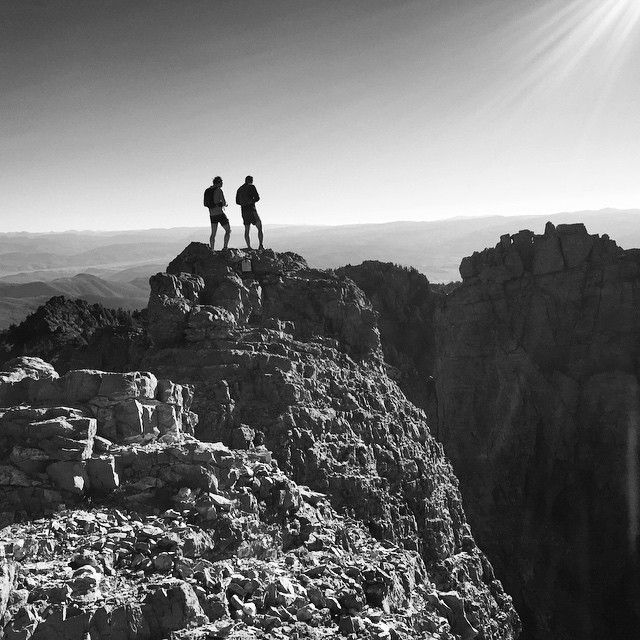 Me and Aaron on Devil's Castle
-Box Elder Peak- In 2013 Craig, Jennilyn and I thought we tagged Box Elder on a really fun early morning fall run. What we tagged however was South Box Elder, so we had to go back again this year on another gorgeous Fall day. The colors were absolutely brilliant, probably the best I have seen all year in the high mountain meadows. This remote summit doesn't see as much action as her next-door neighbor, Timpanogos, but the views might be just as good. It was definitely a stunning day in the hills.

Jennilyn just below Box Elder Peak
-Mt. Wire/View Benchmark, #118 and 119: With a few days left in 2014 I decided to count up my peaks for the year. Mistake. I discovered that I was one short of tying my record for ascents in a year and two away from breaking it. The problem was the forecast until the end of the year was the coldest weather of the winter so far and high winds. Tara, Jennilyn and Matt met me at the Mt. Wire trailhead early on Dec 31st. The wind was howling. I noticed one of the street signs swinging wildly and the temperature was reading 1 degree. Somehow we all got out of the car and found our way on the trail. This was crazy! The wind chill had to be in the negative-thirties or somewhere in that range. The wind gusts were over 50 mph and we suffered our way up the snowy slopes. The final push up the ridge was surreal. Wind so strong it was pushing us over. Cold. Unlike anything I have ever felt before. On top we fiddled with my pack to find my phone for a picture. I took my glove off for 30 seconds to snap the shot and my hand went numb. Then tingly. It felt like a surge of electricity went through it for the next 10 minutes. Even in the harsh conditions we all laughed and had a great time and I'm sure none of us will ever forget it. After we finished Wire I was done. There was no way I would go back up to break my record. Not a chance. After talking with my wife she convinced me to go tag another peak, so on my way home from work I met KendallW for an ascent up View Benchmark from Vintage View in Draper. For every peak I count I have to gain at least 1500 feet of vert and with this run I'd get over 1700. We had a fun time chatting and grinding out the final summit of the year on snowy trails. It was still bitter cold, but nothing like Wire earlier in the day. The final day is what it was all about for me in 2014. Great friends. They rallied at the end to help me achieve my goal in spite of the harsh conditions. Heck, it's hard enough to get MattW up Wire in perfect conditions, so it meant a lot that they stayed and went up with me and Kendall joined me up VB with almost no notice.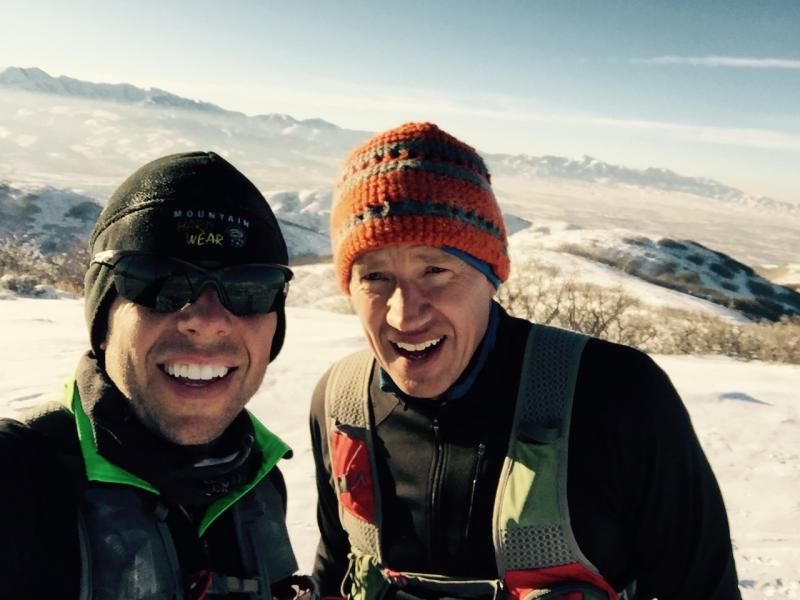 119!
It was a great year, an incredible year with new friends and old ones. I'm psyched for 2015- More adventure, good times, great friends, laughs and peaks.