The Wasatch 100 mile endurance run is my favorite race. I love everything about it. I had the opportunity to run and finish my 4th consecutive Wasatch and it was once again an incredible experience.
2011- This was my first Wasatch and while I had an idea of what I was getting into, I really just wanted to finish. The terrain ate me up and had me limping to the finish in a foggy exhausted state. I was thrilled to get that 32:40 finish.
2012- I was trained, fit and shooting for a sub 30 hour finish. Once again the course destroyed me and after doing well for 75 miles, the last 25 were a total nightmare and I came in hobbling in just over 31 hours.
2013- I came into this race more prepared than any other. I was strong, fit and determined to get that sub 30 buckle. We suffered through the hottest start in the history of the race and I was a complete dumpster fire. I spent over 4 hours throwing up, whining and sleeping at aid stations until my pacers finally gave me a kick in the rocks and pushed me to my slowest finish yet. 34 hours.
I really didn't know what to expect coming into the race this year, but I was well trained and feeling great. Matt Williams and I decided to run the first 39 miles together and then hopefully go as far as we could as long as we were both feeling good. We decided to take a very conservative approach to the first 50 miles and save some juice for a faster push on the last 50. After 4 straight finishes I will say that the most important thing that will lead to a good time in this race is to get to Lambs Canyon (mile 53) feeling good. That was our goal and we executed it perfectly (See Matt's report below).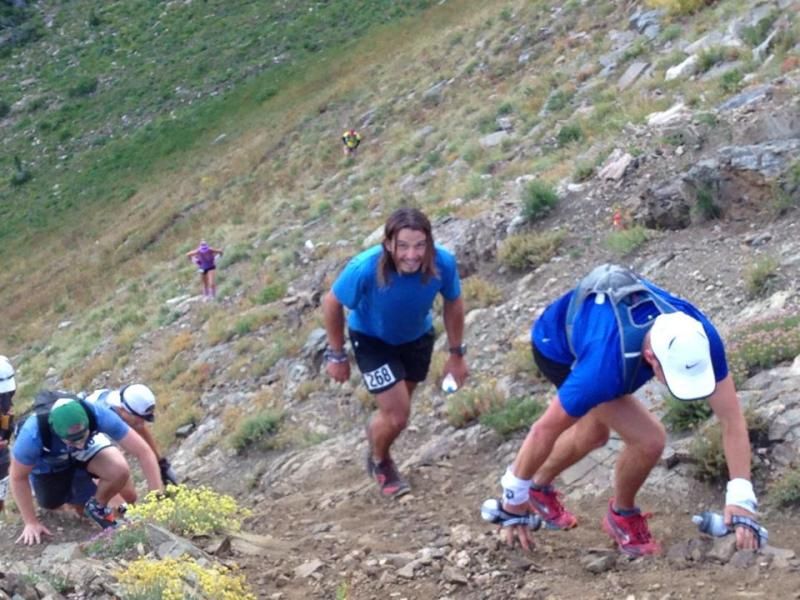 Going up Chinscraper. Photo by Lane Bird
The first 25 miles of the race were fun. Matt and I did not go out fast. We spent a lot of time chatting with good friends and making new ones. The weather was perfect and we really enjoyed the morning climbing up to Chinscraper where Lane Bird was waiting to cheer us on with his cowbell. What a great guy. I was taking a gel every 45 minutes and staying on top of my electrolyte replacement by taking an S-cap every hour. We took the descent to Francis Peak aid station (mile 18.4) very conservatively and rolled in feeling great. The next section to Bountiful B aid (23.8) is always tougher than you think. We grinded it out with a few new friends and came into the aid in great shape. We picked up KendallW and KenzieB there and shared some laughs and fun and then KellyA joined in the party after a few miles. Around mile 27 our good friend Matt Van Horn had set up a living room in a high mountain meadow and had signs for each of us. What a stud! I jumped in his lap and gave him a juicy kiss on the cheek (sorry for that) and a hug. That really lifted our spirits for the next few miles.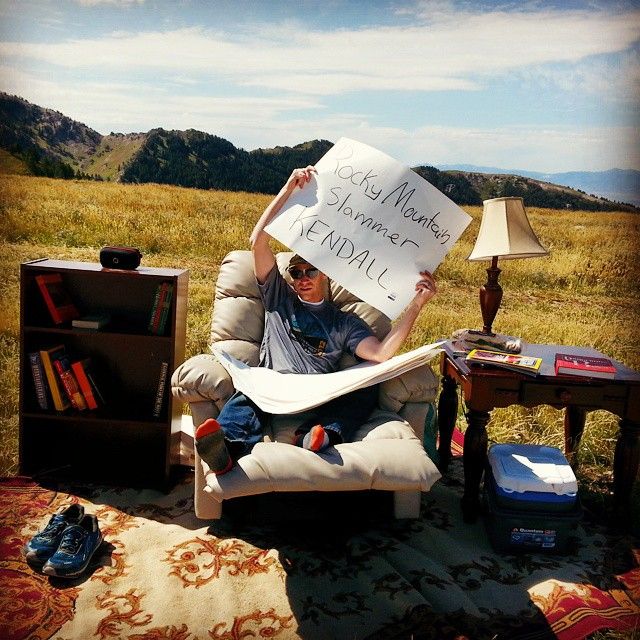 MVH. Photo by Kendall Wimmer.
Miles 25-53 might be the toughest section of the entire course. This is exposed mountain ridge running without any cover from the sun. Even though the temps were cooler than in years past it was deceptively hot. There are some brutal climbs from Sessions aid (28.1) to Swallow Rocks (34.6). This section seems to take forever and it is a total grind. We made some new friends and tried to lighten everyone up with some inappropriate humor at times which always seems to help. Just before Swallow my stomach went south and I felt a bit nauseated for the next 30 minutes. We took a few minutes at the aid cooling off and walked out to settle my stomach. After a few climbs we picked up RyanL and all of us picked it up as we ran into Big Mountain aid (39.1). This is one of my favorite sections on the course, as you hear the crowds cheering and cowbells below. The adrenaline flows and it always makes me smile.

Our running train. Photo by Aaron Williams.
At Big Mountain we picked up Tara and Aaron and they were great pacers. Tara filled my bottles, grabbed me food and was such a big help. The next 14 miles are tough. It is probably the most exposed section of the course at the hottest time of day. We had a really good train with DJ joining in. We kept up a pretty good pace and just listened to Tara and Aaron telling stories and grinding out the miles. We took some extra time at Alexander Ridge (mile 46.9) to cool off and get some calories. There were some runners there that looked horrible. Luckily we all felt good. Out of the aid we picked up Kenzie and Kendall again and had a great time riding the train for the next several miles. What a fun group. Eventually Ryan caught up and we all ran into Lambs (mile 53) together feeling good. Goal accomplished.

A few miles before Lambs. Photo by Tara Summers
We picked up CraigL and JennilynE at Lambs as they would be pacing us to the finish. While the mood stayed jovial and fun for the rest of the way, they went to work like a skilled physicians making sure we were on top of everything. We were given strict instructions in regard to how we would be moving and how we were to approach each aid stop. It worked great and we moved efficiently and quickly for the remaining 47 miles.
Photo by Tara Summers
While the night tends to be very difficult for a lot of ultra runners our night seemed like a party. We are all great friends and know each other well, so we laughed a lot and had a great time. Matt and I took turns pushing the pace when we felt good while Jennilyn and Craig mixed in the perfect doses of love, fun and ass-kicking.
We arrived at Brighton (mile 75) feeling great and in good spirits. We took our time eating, hydrating, changing clothes and applying glide. This was one of our strategic stops where we knew we would take a little more time to make sure we were in great shape for the last 25. The climb out of Brighton was tough with Matt pushing what seemed like a fast pace. I was out of breath and really working hard when we hit the 'beach' just below Point Supreme where MattV was again waiting for us with some great music and a beach set up. I had been totally dreading the descent to Ant Knolls and seeing Matt gave me the juice I needed to tackle that thing feeling good. Thank you Matt for the kindness. It was the highlight of the race for us.
The descent to Ant Knolls (79.1) is one of the worst on the whole course. It is steep, rocky and comes at a time when your toes and feet are sore and tired. It hurt a lot and I tried not to whine and just focus on each step. We finally hit the aid and it was such a relief. The MRC boys were manning the aid station and I only remember a few things. I had some coke and sausage and made the guys laugh with a comment about sausage in my mouth. The climb out of the aid (The Grunt) is one of the toughest you do on the course and Matt decided he was going to hump that thing hard. I couldn't keep up and luckily he waited for me as I was panting and out of breath at the top.
We hit Pole Line Pass where Davy Crockett shared some laughs with us and I choked down some calories and Coke. It was good seeing friends there and the aid station was perfect. The descent down to Pot Bottom was rocky and tough on sore feet and I was so happy when we hit the bottom. I was even ok with the climb that followed. The course was altered this year and we were expecting it to be much easier the last 15 miles and while I think it was a little bit faster it was not easy. Those roads were so rocky and it was tough to get into any sort of groove, but we continued to have an excellent time laughing with good friends while we suffered.

We finished! Photo by Lane Bird.
The descent down to Decker Canyon (93.9) was rough on my feet and Matt and I really slowed down. It was the first time I think we weren't moving with purpose and the miles were taking their toll. After the aid station the sun was up and getting hot and we just wanted to get done. The trail by the lake was actually pretty decent and we were able to get running again and picked up our pace. It felt like we were running fast. Eventually we popped out onto the pavement and we could see the finish which always gets the juices flowing. Jennilyn and Craig ran ahead and Matt and I ran in together. What an incredible experience. We spent 28:29 together laughing, making new friends, hanging out with old ones, suffering, sweating, grinding. We had a plan and had executed it perfectly. We ran a near negative split the last 50 miles and both got our sub 30 buckle.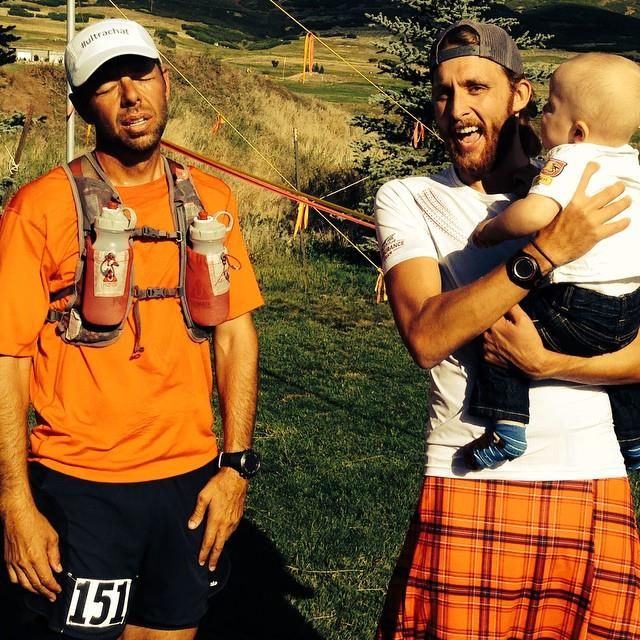 That was hard. Photo by Lane Bird.
Thank you to my incredible pacers. They were perfect and helped me so much. Thank you to the volunteers. I can't say enough bout them and how stellar they are. Thank you to the race committee for all of your efforts that allow us to do what we love. Most of all thank you to my wife, Kristina and family. They have always supported me with my crazy passions. I love you!
I love this race. I love everything about it. The trails, the rugged climbs, the incredible views. But most of all I love the people. The great friends and volunteers that come back year after year to make Wasatch the best race in the world and I can't wait to go back and do it again.
KSL did an article on our race. You can see it Here: KSL article
Check out a #reallyneat video of our run here: Wasatch 100 2014